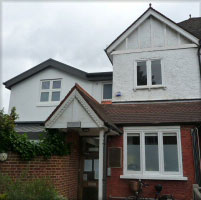 Glebe Road Surgery
1 Glebe Road, Barnes, London, SW13 0DR
Current time is 11:04 - We're open
Telephone: 020 8748 7398
Out of Hours: Contact 111 and your call will be triaged
Latest News (click title to open):
Welcome to Glebe Road Surgery
We try to update our website with the most recent and relevant information about COVID-19; the vaccination programme and what we need to do to help keep you safe during this pandemic. 
Please visit the website on a regular basis to check what's new.
We have begun to adapt our appointment model, by offering a telephone appointment based system, with additional options to come to the surgery for a face-to-face appointment, as long as you are not Covid-19 symptomatic.  We also now offer a significant number of pre-bookable routine appointments, which can either be booked by using your patient online access platform or by calling the surgery and speaking to the reception team. 
We continue to manage the vast majority of prescription requests electronically so if you do need regular repeat medications please ensure we have a note on your record of your nominated pharmacy.  Please also ensure we have your up-to-date telephone contact details as we move towards using telephony to communicate with you about what's happening at the surgery. 
We have recently taken the decision to suspend using of our intercom access to the surgery to help with people waiting outside and also being mindful of the changing season and worsening weather.  Whilst we welcome you into the surgery without waiting to be buzzed in, we do ask you to maintain a respectful distance with fellow patients; wear a face covering at all times and when queuing, please wait to be invited to the front desk, to afford the person in front of you some privacy whilst being dealt with by the team. 
We want to do as much as we can to return to pre-covid arrangements but we are still required to adopt a 'safety first' approach to allowing large numbers of patients into the surgery at any one time.  We may need, on rare occassions, to ask you to wait outside if the waiting room is at capacity.   
Opening hours (check details on our home page)
Latest News
Extra GP services on weekends and bank holidays
On weekends and bank holidays from Saturday 25th December until 16th January, 8am to 8pm, you can call 0333 332 […]
URGENT MENTAL HEALTH SUPPORT FOR CHILDREN, YOUNG PEOPLE & FAMILIES
Children, young people and their families can get free help, advice and urgent mental health support from crisis telephone lines available in every London […]
COVID BOOSTER PROGRAMME UPDATE – see latest info on our dedicated Covid 19 vaccination page
Please click this link to view our full update: https://gleberoadsurgery.co.uk/covid-19-vaccination/ Please note new Government guidance confirms Covid vaccination boosters should […]
General Practice Data for Planning and Research
*** UPDATE 14.6.2021 *** The start of the national data extraction has been delayed until September 2021. *** All GP […]
South West London – Social Prescribing Link Workers