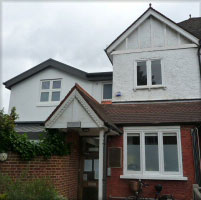 Glebe Road Surgery
1 Glebe Road, Barnes, London, SW13 0DR
It's Saturday 6:29 AM — Sorry, we're closed
Telephone: 020 8748 7398
Out of Hours: Contact 111 and your call will be triaged
Appointments
Please call the surgery using the main number: 0208 748 7398 between 08.30 and 10.00.  We will make every effort to book you in for an appointment with a clinician that morning.  Please note there are limited numbers of appointments available each morning.
After 10.00am your need will be assessed, the team will do everything possible to arrange an appointment at a time appropriate for your needs.
The team are required to ask you some basic, non-intrusive questions in order to help with your enquiry.  If you are looking for help with repeat prescriptions; completing a form or signing forms; organising a medical etc the team will book you the next available routine appointment.  We need to keep our Same Day Service appointments restricted to patients' ONE most urgent issue to help us keep to time wherever possible.
Please feedback to us comments you have regarding your experience of these arrangements.
Should you become unwell during the later part of the day please call us to see whether there are any remaining appointments available.
PLEASE NOTE: the practice will always see a sick child as an emergency on the same day.
You may book up to 4 weeks in advance to see a clinician.
CHECKING-IN FOR APPOINTMENTS
There is an automatic check in at reception – please use this wherever possible to minimise your time queuing at reception.
We aim to see patients within 20 minutes of appointment time. If you've waited for over 30 minutes please speak to reception.
EXTENDED HOURS APPOINTMENTS
Our surgery doors open at 08:15 and close at 18:30.  Telephone lines open at 08.00.  We run extended hours appointments on Monday; Tuesday and Wednesday.  Ask at reception for more information.
SMS/TEXT APPOINTMENT REMINDERS
We now use a text reminder service for appointments booked in advance. If you haven't received a text check with reception to make sure we have your correct contact details.  Please let reception know if you wish to opt out.
If you are a young person then please note that we may still have your parent's mobile number listed in your record so let us know if you want to change this to your number.
ONLINE APPOINTMENT BOOKING AND ACCESS TO YOUR MEDICAL RECORDS
You may book (and cancel) appointments online.  You may also request access to a summary of your medical records (recorded allergies; medications and adverse reactions to drugs).
Please pick up a form from reception if you would like to use this excellent facility. Please bring in some form of photographic identification for us to verify your application. Once your application has been actioned you will be sent details of your secure login.
Once you have registered for this service you can book appointments online via the link below or from the appointments page.
RICHMOND GP ALLIANCE HUB APPOINTMENTS
There are 2 Hubs, open Monday-Saturday 8am to 8pm.
Sunday service operates between 8am – 8pm on a rotation basis between the two Hubs.
Please click on this link for further details
We have an excellent team of nurses who provide a wide range of clinics.  Please consider booking an appointment with a practice nurse rather than a doctor as they are fully qualified to deal with many conditions and you may be seen more quickly.
Please contact us as soon as you know you cannot make your appointment – we may be able to offer it to another patient.
Opening Times
Monday
08:15 - 18:30 (extended hours 18:30-19:00)
Tuesday
07:00 - 18:30 (extended hours 07:00-08:00)
Wednesday
08:15 - 19:50 (extended hours 18.30-19.50)
Thursday
08:15 - 18:30
Friday
08:15 - 18:30
Saturday
CLOSED
Sunday
CLOSED