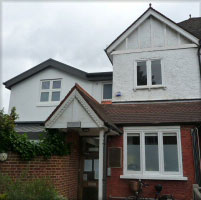 Glebe Road Surgery
1 Glebe Road, Barnes, London, SW13 0DR
Current time is 17:37 - We're open
Telephone: 020 8748 7398
Out of Hours: Contact 111 and your call will be triaged
Latest News (click title to open):
FLU CAMPAIGN 2020
The surgery is working hard to provide flu vaccinations to all our "vulnerable" and "at risk" patients.
In order to vaccinate a large number of people safely and efficiently the venue for most people is going to be in our temporary Portakabin which is located in front of the surgery.  It's not something we had planned to do, but Covid-19 came along and we have had to work within the guidelines of Infection Prevention and Control.  We have come up with a plan which has meant our patients have not needed to travel to other sites in the Borough, which was a very real possibility at one point and we are able to keep everyone (patients, carers and our team members) as safe as possible.
Clinics run daily and are by invitation only. We have a dedicated flu line where you may leave a message or speak with one of the reception team to organise or rearrange your appointment.
We have sufficient vaccines to give people, however we must assess each patient's level of vulnerability and invite people in strict order – people aged 65 years and older; all patients in the "under 65 at risk groups", pregnant women, carers and patients designated "at high risk of developing complications from Coronavirus" are being invited for flu vaccinations first.
Please remember that you must cancel your appointment if you feel unwell and/or have a temperature; a new persistent cough or loss of sense of taste and/or smell.
Please come to your appointment no earlier than the appointed time and remember to wear your face covering and maintain social distancing guidelines at all times.